According to a 2016 AARP* study, baby boomers travel to enjoy more smiling and laughing, time with friends and family, to learn something new, to reflect, read, sleep, dream, exercise, and eat healthfully.  Can you do those things with a travel buddy? Perhaps not all of them, but certainly most of those will be greatly enhanced with a travel buddy.
I remember arriving for my first day at university and walking into my dorm room. No one was there at the time, but it was obvious that my roommate had been and gone, and had left her belongings neatly arranged in our new home. She was a complete stranger. Her habits and needs were a mystery to me. But over the next few weeks, we set ground rules that enabled us, even though we were very different young women, to live together harmoniously for the rest of the year. Today we have many more tools to use to discuss and set ground rules for our travel needs in advance. It saves potential disagreements and headaches and ensures a more pleasant journey together.
Use tools like Zoom, Skype, and Google Hangouts to video chat about what you like to do when you travel. See the article called, "Safely Selecting and Getting to Know a Travel Buddy." Use those questions to begin exploring your potential travel compatibility. Then you can explore these items:
Does your travel buddy like shopping? Do you prefer museums? Arrange some tours individually.

Do you skip breakfast? Does your travel buddy eat a hearty breakfast? You don't need to eat three meals together every day.

When you're comfortable getting more into the nitty-gritty, talk about how tidy you'd like things kept. And even discuss bathroom etiquette. Should you flush the toilet in the middle of the night? Turn on a light to read a book if you can't sleep? How do you like to be awakened in the morning?
While sharing, be as considerate as you can. But knowing something about each other before you leave on a trip can go a long way toward easing and speeding along the getting-to-know-each-other phase.
Consider fitness levels. Travelling is physically demanding. As a mature traveler, consider pacing yourself. Instead of seeing everything the tour book lists as a must-see, discuss ahead of time with your travel buddy which are the more important ones. If your energy levels differ, plan to meet in a café at an agreed-upon time. There's always fun to be had people watching, if your buddy prefers more time in the museum. You can find suggestions for the 15 best places for people watching in Paris here.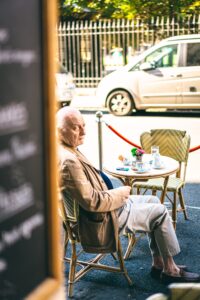 Enjoying Travel with a Buddy
What's the bottom-line message for enjoyable travel with your companion?
Plan together.

Communicate with each other.

Stick to the agreements you make.

Be flexible, tolerant, and considerate.

Be open to experiencing the new and unusual.
You'll increase your enjoyment of both what you're seeing and of your companion. You may even plan another trip together!
*The AARP (American Association of Retired People) provides an extensive online library of travel-related articles and advice for seniors, including destination guides, budget travel recommendations, and an interactive trip finder. The AARP also offers info on retiring abroad.
Ready to find a travel companion? Go here to register at Senior Travel Buddies and then search for the perfect person.