Connect with a Travel Buddy
We enable you to connect to potential travel companions. It is up to you to write yourself a great profile, to make contact, to introduce yourselves with an e-mail, and to organize your travel arrangements.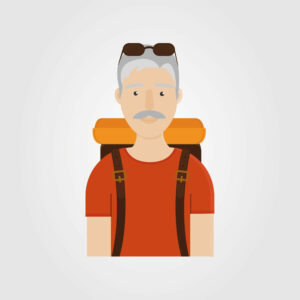 Once you've signed up, as well as being able to contact potential travel buddies, you will be findable as a companion. Members are looking for specifics: who, what, where, when, why! When you create your profile, include as much info about yourself as you are comfortable providing. To all new members we also offer a weekly webinar where you can learn how to create a profile that gets the results you're seeking.
Connect Safely
When you arrive in a completely new environment, where customs may be very different than your own, it is an opportunity to see the world from a new perspective, an opportunity to broaden your life view. You'll want to be able to trust your buddy to be there for you and vice versa.
Senior Travel Buddies works on trust!
Travel tests our capacity to trust others. Being a long way from home, we depend on others, particularly our travel companion. Trusting someone means that you think they are reliable, you have confidence in them, and you feel safe with them.
Take precautions
But, DO NOT take unnecessary risks. Do not exchange your personal address, e-mail, or phone number until you feel that the potential travel buddy seems like the kind of person you would be interested in hearing from.
Investigate your planned destinations beforehand and find out what precautions are recommended. Do you need immunizations? Is there currently political unrest? What is considered culturally unacceptable or risky? Even though you will not be traveling alone, especially if you are a woman, you may have to give more consideration to how/where/when you travel.
Research on the Internet also information that will help you investigate the safety of your chosen destination.
Be clear about arrangements
In the rare instances that things don't work out it is usually because the expectations of either party weren't met due to lack of communication. It is very important that any arrangements are clear from the outset. Both travel buddies should read through each other's profile info (which should be as informative as possible) plus photos, and then make a list of questions/information points relevant to the stay, for example:
the types of activities you plan
the expected daily schedule
sleeping/eating arrangements, etc.
Be in touch
Personal contact with your potential travel buddy is essential. Take time to chat on the phone or video chat with Skype or other video call app to get to know each other. And wait until the two of you have confirmed your desire to travel together to make fixed travel plans. Also keep in mind that occasionally unforeseen circumstances may mean that one of you has to cancel or postpone a trip. In this case, let your travel buddy know as soon as possible.
The ability to be flexible helps considerably when you are traveling.
Any arrangement you make is entirely between you and your travel buddy. Senior Travel Buddies posts the listings and facilitates initial contact. (Please review our Terms and Conditions.)
General internet safety advice
It is always important to be aware of people who could be dishonest. Even though the vast majority of people are honest and as they appear to be, we all know there are dishonest people. Making yourself informed about some common scams will enable you to spot them if ever someone tries one on you.
Here are some tips to help you avoid common scams:
Be aware that wiring money is equivalent to sending cash. Con artists often insist that people wire money, especially overseas, because it's nearly impossible to reverse the transaction or trace the money. Don't wire money to strangers or to anyone who wants to keep the request a secret. Each of you can pay your own way.
Never agree to deposit a cheque and wire money back, no matter how convincing the story may be.
Use your common sense. If someone asks you for sensitive financial information make sure you're 100% certain that you can trust them.
If you have identified anyone on Senior Travel Buddies who might be suspicious or have abused your trust or acted inappropriately or illegally, please contact the Senior Travel Buddies team immediately (use the Contact Us feature at the top of this page).