The main distinction in my memory of Wales is the combination of letters that named places, people, and things. There were Llanybydder, Gwyddgrug, Llanfihangel Rhos-y-Corn, and Bwkch-clawdd (with only one vowel in the entire two-word name). The accent made our common language almost unintelligible. We tried to understand and to be understood and were richly rewarded by our contact with warm, generous people.
As we hiked up a steep hill one afternoon, Terry was wheezing badly. At the top of the hill we could make out a tiny little old lady beckoning to us. When we reached her, she invited us in for tea. After relaxing for a little while, Terry and she commiserated about how hard it was just to breathe. The tiny old lady was also wheezing.
Next we headed to Cornwall, south and west of Wales where we traveled to Land's End, a place of stunning scenery and outstanding natural beauty at the westernmost point of Cornwall. After enjoying the crashing waves and walking the local cliffs we hurried to return to Penzance to the youth hostel. It was housed in a Georgian mansion and set in beautiful gardens, only a 15-minute walk from the town and seafront. From Penzance we were able to explore the local area.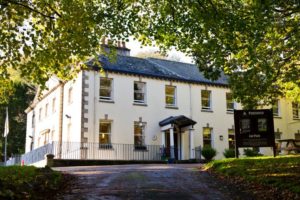 It was time for us to return to the high life of London. We left Cornwall and hitched our way back to the city.
Terry and I continued to explore London, the museums, the open air markets, the theaters. I was awed at the sight of Turner's Norham Castle, Sunrise. He turned form into light and light into form. We spent hours indulging in Monet's water lilies at the National Gallery and stood agape in front of paintings our mother had discussed with us since we were children. We walked along the Thames, crossed it on ancient bridges, and felt the satisfaction and giddiness that came with international travel.
Terry entered a large, red phone box and called Robert. He was delighted to hear that we were back in London and invited us to a concert being held at the Royal Albert Hall. It was Santana! One of the hottest rock groups around (ironically from our part of the planet)! In one of the world's most famous venues. We dressed in our fanciest hippie garb and rode in Robert's tiny car to the hall. The music was fantastic and the hall spectacular. Just as we'd done in Bristol at the Juicy Lucy concert, we wandered the halls, up and down the grand stairways. We joined groups puffing away and thoroughly enjoyed the evening. Robert returned us to the hostel at St. Paul's where we spent our final night in London.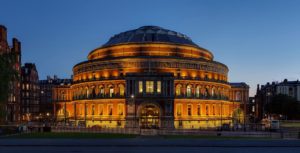 It was with sadness that we said goodbye to Robert the next day as we prepared to leave for warmer climes. Terry was suffering from the damp and cold of Britain and needed dry heat to soothe her sensitive lungs. Robert drove us to the edge of southern London and we once again stuck out our thumbs. A few kind families gave us lifts and eventually we were dropped at the bottom of the White Cliffs of Dover at the ferry landing.
Our ferry tickets gave us access to the entire boat which was large and modern. We stashed our packs and explored the several floors, chatting with different passengers. One of those passengers, a Frenchman who'd been on holiday in London offered us a ride to Paris, our destination. We accepted with enthusiasm.
The fog that had enclosed our departure gave way to a brilliant day, reflected in the surging blue seas. When we debarked in Calais, the day was warm and dry. Our driver sped down the plank into the French countryside. Terry and I looked at each other with trepidation.
"Excusez moi, monsieur. Mais en France on conduis sur le droite, n'est pas?" I said using my best school-learned French. Excuse me, sir. But in France you drive on the right side, correct? He immediately swerved to the right from the left lane he'd been cruising down. Thankfully there'd been no oncoming traffic. He drove fast and we arrived in Paris after a brief stop where he treated us to lunch at a roadside café. We were already smitten with the cultivated fields of the French countryside. We continued to practice our French with the driver all the way to Paris.