"Let's go take a look at more of the town," I suggested to Terry after we'd descended the endless staircase. "I'd like to see what the 'normal' town looks like." We walked around the downtown area, stopped at the local Boots drugstore for some essentials, and found a grocery store. The hostel included a decent kitchen where we planned to make a simple, cheap dinner—soup, salad, bread, and cheese. Using our camp stove we worked quickly and efficiently and whipped up a tasty supper. A few other students joined us and we all shared our feast which grew to include wine, sausages, and biscuits (cookies to us). This time our typical hitchhiking conversation was reversed when I asked, "So where do you go to school?"
"We're juniors at Kent State," was the reply.
"No way! Were you…" Before I even finished they said in unison, "Yes." So of course Terry and I wanted to know all about their experience at the Kent State student demonstrations and resulting shootings. They'd occurred the previous May 4, and involved the shooting of unarmed college students by the Ohio National Guard who fired 67 rounds over a period of 13 seconds, killing four students and wounding nine others. There was a significant national response to the shootings: hundreds of universities, including ours, colleges, and even high schools closed throughout the country due to a student strike of four million students. Terry and I did not mention that we did not strike in solidarity, but we certainly expressed our shock and horror and condolences.
After our second bottle of wine we decided that it made sense to learn more about York's night life, even though it was a Tuesday. We all walked to the ancient city and explored the alleys until we found a lively pub. Music poured into the street and beckoned. In we went where we enjoyed a few rounds, compliments of our new friends.
After a short night's sleep and morning chores (this time I was stuck with toilets and Terry emptied trash cans), we left for Whitby to the north and east of York. Whitby, recommended in our guide book as a picturesque seaside fishing village, promised to offer a contrast to everything we'd seen so far. It was easy to reach the edge of York and to catch our first ride. I was tired and Terry took on hitchhiking conversation duties. We both felt it was our way of repaying drivers for the privilege of riding with them—to entertain and educate about California.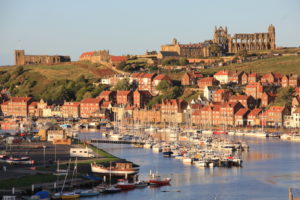 While we rode I quietly reflected on how much I was enjoying this trip. Terry and I got along so well and joked, laughed, and sang together all the time. We enjoyed the same foods, music, and many of the same friends back home. We'd grown up as best friends and could finish each other's sentences. We had so many 'in jokes' as to seem obnoxious to unsuspecting acquaintances.
Our dad had been in the radio business. He'd graduated from CBS Broadcast School first in his class giving him a leg-up in the industry. The catch in his business, however, was that every time he wanted to rise in the hierarchy, it meant a move to a new community, a new radio station. And rise he did. And move we did, approximately every year and a half. I boarded the "moving train" in Monterey, California, where I was born. From there we moved to San Bernardino where Terry was born a year and a half later. Then to Tarzana in the San Fernando Valley. All those moves were in California and about a year and a half per location. Suddenly my dad was offered a job in Fairbanks, Alaska. My mom was nothing if not flexible.
The move to Alaska was a dramatic one. Dad drove from Los Angeles in a large truck that contained all our belongings, up the Alcan Highway, treacherous even to this day (he was driving it in the spring of 1953), and all across Alaska to Fairbanks in the center of the state. Mom, Terry, and I flew.
No jets in those days. We flew in a large four-prop plane. The first stop was in Seattle where my mom, worried that the next part of the trip would be turbulent and give her two sick children to manage, fed us Dramamine. It didn't agree with our little tummies, and we promptly threw it up. At least cleanup was easier in the restroom on the ground than in the one in the air. In the meantime, unbeknownst to Mom, the plane took off for Alaska. Undaunted, my mother explained to the service desk personnel what had happened and they radioed the pilot who turned the plane around and came back just for us.
I remember flying over mountains covered in snow and thinking that they looked like piles of powdered sugar. During the flight Terry and I were adopted by the stewardesses and given the job of finding out what each passenger wanted to drink. We went from person to person and asked politely. We didn't write anything down – I was four and a half and Terry was three – so by the time we'd finished, we remembered nothing. It kept us busy and most likely entertained the passengers. We were given and I kept the junior stewardess wing pin for many years after that memorable flight.
Our family continued to move until I reached the age of 13 and we settled in the town of Santa Rosa, California. With frequent moves, it was impossible to make and keep long-term friends. Fortunately for me, I had Terry, a built-in best friend. But one better: a friend who had been through the same life experiences as had I. Our adventures had started at an early age with the move to Alaska so we were definitely prepared, at the ages of 19 ½ and 21, for this European adventure.