From guest writer, Abbe…
Our first trip of this year was, as these study trips are, filled with information, nice people, and fascinating places. One of those places was the illegal immigrant detention camp at Atlit. It was here that Jews who were attempting to reach the shores of the Land of Israel prior to independence were imprisoned by the British who, at that time, had the mandate from the League of Nations to rule what was then Palestine.
Below is the disinfection structure they entered upon their arrival.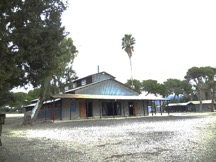 Upon entering the disinfection building, men and women were separated, ordered to strip, and herded through showers. We could almost feel the panic and fear they must have felt at this procedure. Although most of the immigrants were from Europe and had either survived the German death camps or escaped capture and hid in various places, they must have known about the procedures in the death camps and must have been horrified to find themselves facing the same procedures here, in the land of Israel. The photo below, however, shows two men who had known one another before the Holocaust and met at Atlit, which must have been joyous for both of them.

We understand that school groups visit this site, as do youth groups and such, so it's well used by Israelis. Many people in our group were familiar with it as well, but the impact of being there was felt by all.
Our next stop offered a much more upbeat atmosphere. Yemin Orde is a village that provides a safe haven to at-risk and immigrant children from around the world. Our tour guide there was born in Ethiopia and was simply delightful.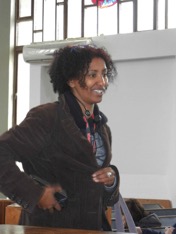 She showed us around the campus and took us into the synagogue, where she explained the programming that the children there experience. They not only live there, but also go to school and get psychological help – all on campus.
After lunch, we visited the artists village of Ein Hod. Many of us had been there on previous occasions, but there's always something new to see. Artists live and work in the village, so there is art work everywhere. .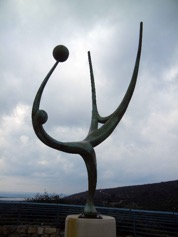 Of course, we spent most of one morning at the port city of ancient Caesaria, built by the King Herod, who was appointed as ruler by the Romans. Since it was raining, we didn't spend much time outside, but the new museum there held many artifacts that have been found in the years of excavations and archeological work that still goes on there.
We visited Neve Michael Children's Village, to which children can only gain access through the courts, so their homes have been found to be unsafe for them. The facility provides psychiatry, psychology, occupational therapy, social work, conventional and para-medical therapies, plus education to the children there, and has been in operation for over 70 years. We got a tour of the grounds and an excellent lunch while we were there. Most impressive.
On our way back to our hotel, we stopped at Ruach Shtut, an agricultural facility where strawberries, blackberries and seasonal flowers are grown. We were able to see the greenhouses and also to pick and eat the sweet strawberries growing there.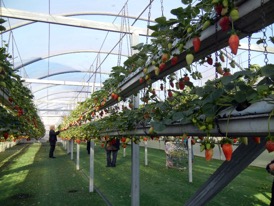 The last stop on our four-day tour was at Beit Hadedudim, a museum dedicated to the Jews who volunteered in the British forces to fight the Axis forces in both world wars. Many of us were struck by the irony of Jews serving in and being trained by British forces, only to use the skills gained there a few years later when the Jews used their training to form the Haganah and the Irgun who fought the British.
Our hotel during this trip was located on the shore of the Mediterranean Sea, which provided some exquisite views upon our return each evening. Enjoy!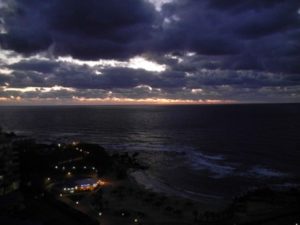 Until our next excursion, we wish each and all of you well.