Do you like to be frightened, like when you were a kid on Halloween? Or, would you rather dress up in a wonderful costume and anonymously attend a ball? If either of your answers is yes, there are so many adventures awaiting you around the world where you can don a costume.
The Masked Ball in Venice, Italy
The masked balls in Venice are on for 2022. You can get yourself invited to one at: https://www.carnival-in-venice.eu/?gclid=CjwKCAjwqeWKBhBFEiwABo_XBvOm0FY3ME7IsNbIim4Y-vo-E1AubfGOHKdKciUq6aWDWQBZw1xBnhoCIHUQAvD_BwE.
They describe the experience:
"Imagine walking through the streets of Venice, beautifully dressed in your historical costume. Your gondola is waiting for you. The gondolier silently manoeuvres the boat through the water. You admire the beautiful old palaces along the Grand Canal.  The boat slides into one of the side canals, and an elegant masked man courtly helps you to step out. Further ahead you see a palace in a faint red glow. That must be it!  A magician invites you through the large door.  An evening of music, romance and enchantment is waiting for you…"
Carnival in Venice lasts more than two weeks. In 2022, it starts February 19, and ends March 1. Throughout the city, you'll see people in historical or masked costumes.  In addition to the masked balls, many events, like musical events, water shows on the Grand Canal, the Feste delle Marie, the Flight of The Angel from the bell tower and the Svolo del Leon are held in the city.  You will find all events on Venezia's event list.
​
Visiting one of the Grand Balls in this period is a romantic and magical experience. Reserve early!
Purim in Israel
In a carnival-like atmosphere, Purim in Israel is a popular Jewish holiday that celebrates the story of how Queen Esther saved the Jewish people. Purim is characterized by public readings of the Book of Esther, giving mutual gifts of food and drink, giving charity to the poor, and a festive meal. Celebrations in Jewish communities all over the world include dressing up and "drinking until you can tell wrong from right," resulting in some crazy parties! Although Purim only lasts one day, people, and especially children, dress up all week long.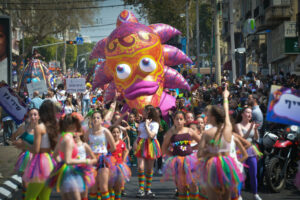 A popular treat during Purim is Hamantash, a filled-pocket pastry with a distinctive three-cornered shape. They are said to be named after Haman, the villain in the Purim story, as he wore a three-cornered hat. The shape is achieved by folding in the sides of a circular piece of dough, with a filling placed in the center. Popular fillings are fruit jam, chocolate, cheese, or poppy seeds.
Purim 2022 will be celebrated in Israel in the middle of March.
Mardi Gras in New Orleans
Mardi Gras is the annual festival commemorating the start of the Christian festival of Lent. During the New Orleans Mardi Gras you'll enjoy wild carnival celebrations. Costumes are the norm and people turn up in elaborate costumes, masks, and beads.
Navratri in India
The Navratri festival, usually in the month of October, lasts nine nights. After the daily prayers to the Goddess Durga, the real fun starts. Women and men parade around in their best Indian finery for these dances known as 'garba and dandiya'. Women wear a traditional Indian skirt with a top and a scarf around it, accented with jewelry. Men wear long, loose pants with a flower-like shirt and a colorful turban. You will see a whirl of vibrant colors and entertaining dances.
Burning Man in Nevada, USA
From the end of August to the second week of September, Burning Man is a venue for creative expression. Attendees pour creativity into artful and decorative costumes. Burlesque outfits, body-tight shape-shifter costumes, birthday suits, and anything you can imagine turn up at Burning Man. All are welcome and are worn with great pride.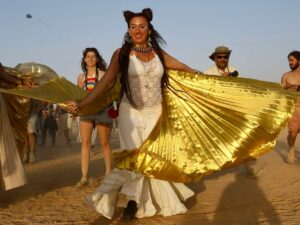 Find Yourself a Costume!
So many possibilities! Are you going to a Halloween party? Or attending a virtual one? Here are some links you can check out to find costumes and Halloween supplies:
Learn about even more Halloween-type festivals and celebrations in this video:
As an Amazon Affiliate, we may earn a commission on Amazon items you buy through links on our site.