We began with a trip to the Galleria dell'Accademia whose most prized possession is Michelangelo's David which stands in the Tribune, created by Emilio De Fabris especially to house the sculpture. I don't remember how much time we spent breathlessly gazing at David.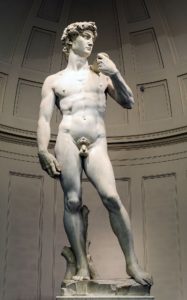 I started a new paragraph here to add a visual pause, hoping to indicate the awe we both felt seeing David for the first time. The museum's other pieces by Michelangelo like the sculptures of Saint Matthew and the Four Slaves, and Botticelli's Madonna and Child and Madonna of the Sea, did not fail to impress us. In the entrance to the museum you can see Giambologna's plaster model of Rape of the Sabine Women, another striking and memorable piece. Perhaps my favorite exhibit is the Museum of Instruments which holds an extensive collection of 40 historic musical instruments from the neighboring Luigi Cherubini Conservatory. I am always fascinated by historical musical instruments, especially those exhibits that illustrate the modernization of an instrument, from ancient times to today.
Our second stop was the Uffizi Gallery. In addition to learning about its fascinating history, beginning as Florence's judiciary offices, we enjoyed its wealth of Renaissance artwork installed by the Medici family, highlighting works by Michelangelo, da Vinci, Caravaggio and Raphael. We were good little tourists and hit the Ponte Vecchio, the Basilica of Santa Croce, and the Boboli gardens, filled with statues. I like to wander gardens filled with artwork. Over the three days we diligently explored all we could fit into the "allotted" time.
Since we were on such a limited budget and without an appropriate wardrobe we were unable to partake of the extravagant restaurants. But we did find the legendary Trattoria da Mario in a square behind the food market, the Mercato Centrale. Servers were friendly and the Tuscan food was so excellent and well-priced that we returned twice for lunch, in between our museum and gallery visits.
Hitchhiking to Rome was next on our schedule. During that trip we experienced what became epidemic in Italy for us. Drivers assumed that two American girls hitchhiking were there for one reason only: we must be prostitutes. After we said goodbye to the family who brought us into Italy, we were forced to demand to be let out of almost every ride we were given. That they assumed that about us was infuriating. Terry and I feigned ignorance—pretending that we didn't understand what they were asking for. No matter how graphic it became.
"Fu**ee fu**ee?"
"Huh? We don't understand!"
Finger plunging in and out of a loose-fist. "Huh? We don't understand! No speakee Italian. But here's our stop. Stop! We want to get out here!!!"
Over and over again it happened. Only in Italy.
We found a large hostel near the center of Rome, stored our things, and began exploring the city. We took buses, walked, and saw most of the major tourist attractions, including throwing coins in the Trevi fountain on a very hot day. Children squealed with delight as they frolicked in the water. We sat on the edge and soaked our blue jeans up to our knees, then continued our sightseeing more comfortable for it.
We walked through the Roman Forum and then made our way to the Colosseum where Terry announced loudly, "Friends, Romans, countrymen, lend me your ears; I come to bury Caesar, not to praise him." She would have continued but the looks she was given convinced her not to.
As evening approached we decided to get some dinner and walked to a nearby neighborhood osteria that had been recommended to us earlier at the youth hostel. The neighborhood was on the seedy side but served superb food on cheap paper tablecloths. The waitresses knew exactly what we wanted without even asking. (It was a prix fixe menu.) We had a ricotta and spinach ravioli and Rigatoni with butter and parmesan, and guzzled the wonderful house red wine. It was all we could do to not lick the plates. Then we looked at the bill and couldn't believe how cheap it was. We ate there two more times before we left Rome and again later on our return trip.
Our trip to Vatican City was strange. Not being Catholic certainly made a difference as to our enjoyment of the place. It was terribly crowded and didn't captivate us in any way. Seeing Michelangelo's Sistine Chapel frescoes was, however, extraordinary.