Robert headed south, toward the Cheddar Gorge, an attraction he wanted to see. It was late afternoon as we descended through a spectacular gorge, cut through the limestone in the Mendip Hills. It resembles a miniature Grand Canyon and was the last thing I expected to see in England. The caves were illuminated and open to the public, but we were hippies and too cool to stop for a tour.  So we drove on to the town of Cheddar.
It was summer and the height of the tourist season. Even the youth hostel was full. We asked around town for a place to stay or to camp. Absolutely nothing was available. We must have looked forlorn and a bit pathetic because the fire chief at the fire station across the street from the youth hostel gave us permission to stay the night on the fire house floor.
"Wow!" Terry exclaimed.
"Wow!" mimicked Robert, and the fireman laughed. Their mimicry of our American accents was non-stop, but all in good fun.
The fireman showed us into the station and indicated that we could lay our sleeping bags out around the trucks. The floor was concrete, hard and cold, but it was somewhere to sleep.
"If the alarm goes off, you'll need to quickly remove yourselves and your bags from the floor. Me and the guys and truck'll be out of here within five minutes." Fortunately we didn't have to find out if five minutes was enough time to pack up and get out. We arose early in the morning (I don't remember getting much sleep), packed up, thanked the guys, and went in search of breakfast. And cheddar cheese, a specialty of the region.We had our first taste of real cheddar—white, not the orange colored fake cheese we'd been eating all our lives,but sharp, and blissfully tasty.
As we walked back to the car, Robert noticed a sign posted announcing a Juicy Lucy concert in Bristol, a seaside resort just to the west. The band was unfamiliar to Jim, Terry, and me, but Robert was enthusiastic. The concert was scheduled for Thursday night and it was Monday, so we had a few days to explore the surrounding countryside.
We drove south of Bristol to Weston Super Mare, a beach town on Weston Bay where we enjoyed a warm, sunny day on the beach. Near evening, we decided we'd better locate a place to sleep. True to our plan of frugality (we were carrying Arthur Frommer's Europe on $5.00 a Day – easily 15 times that today), we began to ask around for a free place to put our sleeping bags. We drove south and stopped at a small, run-down café in a tiny town called Brean Down.
There weren't too many customers, so we spoke to the waiter. I approached him and asked, "Do you know of anywhere we could crash?"
"You can park the car here and hike to the end of the spit of land just next to the café," he told us. "You'll probably run into others doing the same. It's a popular spot to camp."
"Thanks," we all said in unison. We returned to the car and drove a short way to a small grocery store and bought supplies for dinner and to eat the next day. We had camping stoves along so even bought some soup to heat up and help brace us for the damp, cold night ahead.
It was getting dark when we finally made our way along a path, lighting our way with flashlights. It was extremely foggy and very dark, eerie even. "Do you hear the surf?" asked Jim. "Yeah," replied Robert, "but I can't tell where it's coming from." It was nerve-wracking not knowing whether we were about to step off a cliff into a raging sea below. We finally stopped after about 20 minutes of blindly making our way to a concrete bunker. No one else was around, so we set out our sleeping bags on the rough concrete floor and made a "home" out of the Brean Down Fort.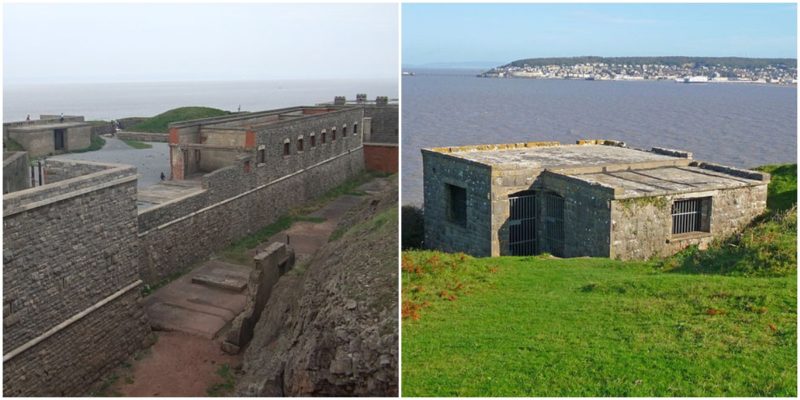 We really didn't realize what a fascinating place we'd found until morning. It turned out that we'd spent the night in what was left of an old army battlement with several old buildings left from World War II.