We continued our walk, through the crowds of tourists whom we blatantly disdained. They were typical loud Americans and we were cool, well-traveled, and sophisticated college students. We'd been to Canada and Mexico, after all.
We continued through Green Park into Hyde Park and to Speaker's Corner.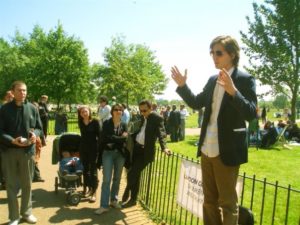 There were four platforms, none occupied at the moment. I mounted one of the platforms, immediately felt overcome with shyness, and jumped down. Terry, the drama major, however, was in her element. She was determined to follow in the footsteps of those, like Karl Marx, Lenin, and George Orwell, who had come to air their views since 1866.
She walked onto the platform and regaled the onlookers:
"What we really need here at Speaker's Corner is a toilet! They've just spent half a million pounds to extend the flower beds and what they really need is a bloomin' toilet!" Her accent sounded okay to my unaccustomed ear. "There is a toilet if you need one. It's in McDonald's ½ mile down the road. So what we're saying is that we didn't need half a million pounds spent on flowers, we wanted a toilet! Reopen free public toilets within 200 meters of Speakers' Corner now!"
Terry bowed and left the platform to a smattering of polite applause, baffled looks, and my uproarious laughter. I was about to wet my pants, but of course there was no toilet nearby.
With Speakers' Corner checked off our have-to-see-it list, we decided to head back in the direction of the hostel, via an alternate route. We walked toward Piccadilly Circus, not because we knew what was there, but because we liked the name and had to see it.
We wandered the area and found it underwhelming, though it is one of the most famous intersections in the world!
By late afternoon we were knackered (one of the new words we'd picked up already) and decided to return by tube (metro) to the hostel for a rest. We had picked up a map of the subway system and had changed money so we felt prepared for our first foray into the underground. We stopped along the sidewalk and took out the map. It looked pretty straightforward. All we had to do was find the tube stop.
"Excuse me," Terry spoke to the first passerby, a young man dressed in jeans and tie-die T-shirt. "Can you tell us how to get to the Piccadilly Circus tube station?" He seemed to be listening, but didn't respond – probably stoned. Terry gave up on him and tried a well-dressed woman, in her 40s next. "Hello! Can you please give us directions to the Piccadilly Circus tube station?"
"Certainly. Follow this street to the next intersection and turn left. You'll see it on that first block," she told us.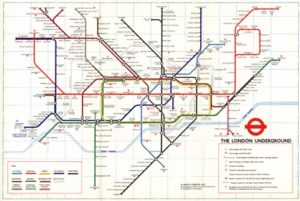 "Thank you so much," I gushed. She smiled and left us. We turned in the direction she'd indicated and found the station within a few minutes. The next challenge was to figure out which platform would deliver us to the next stop we needed. Terry studied the tiny map while I looked to the large one on the wall. It seemed straightforward: take the blue line toward Cockfosters. After two stops change to the red line at Holborn and head toward Epping two stops to St. Paul's. Simple enough.
Neither of us had ever traveled on a subway before and as it happened it was rush hour. In our uncertainty we were jostled and pushed and were dangerously separated. I felt a little panicky and caught Terry's eye across the train car. She noted my panic and mouthed, "Don't worry. We're fine." We did manage to get off at the same stop and to regroup before we boarded the red line, which was a little less crowded. Two stops later we mounted the stairs and emerged into a different world. Since St. Paul's was located in an area of offices and government buildings, it was deserted during the evenings and weekends. So we walked peacefully back to the hostel.
We joined the line of fellow travelers waiting outside the doors for the hostel to open. We climbed the stairs to our bunks and were both out in minutes.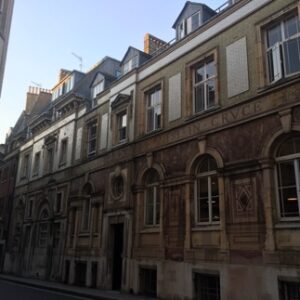 The dark doorway is the entrance to the St. Paul's youth hostel
After a short night's sleep, we showered and made our way to the large common room on the bottom floor. It had rows of elementary-school-style tables and benches where everyone gathered in the evenings. There were kids from all over the world and we sat and listened to stories about enticing adventures. Someone mentioned a rock festival happening soon near Bath, England, so even though we had planned for a few more days in London, we decided to take off the next morning.
We still needed to eat dinner, so joined a group heading to a nearby pub. There weren't many local pubs open in the evenings in this area of the City, so choices were limited. Dinner consisted of a meat pie, a first for both of us, and Guinness dark. We knew we had to try Guinness in England. What we didn't know was that it was served warm. Drinking beer in the US in college consisted of ice cold pale beer. This was warm, thick, dark and bitter. Both of us left most of it sitting on the table. The meat pies were similar to what our mother called chicken pot pies, something she didn't make, but bought frozen for us as a treat. After dinner we returned to the hostel and visited with other travelers until we headed upstairs to sleep.
Read Heading West for Rock and Roll, Part 4.