Travelogue: June 30 – July 15, 2019
When we left the Minnesota Airstream Park, we continued north to Bemidji, which is a quiet area that attracts tourists in the summer because of its proximity to Itasca State Park, the site of the headwaters of the Mississippi River. We didn't visit the park, since we've been there twice on previous visits to the area. The Visitor's Center in the town is on the shore of Lake Bemidji, where we strolled a bit, enjoying the lovely weather. This sculpture (shown at the top), honoring Native American powwow dancers, is quite striking, we thought.
We stayed here until July 5, when we moved west to Grand Forks, ND and East Grand Forks, MN. These towns are on opposite sides of the Red River and it was in East Grand Forks that we came across one of the most beautiful campgrounds we've ever visited.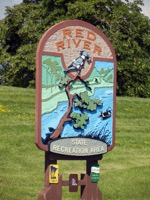 The campground was created here following a terrible flood of the Red River in 1997 in which the water depth reached 47 feet. The neighborhood that was located along the river bank was completely destroyed, so the state and city decided to turn the area into a campground, making use of the underground infrastructure that remained – sewers, water pipes and the like. Our campsite, as all the others there, was huge and grassy, with large trees that survived the flood. This was the view from our trailer.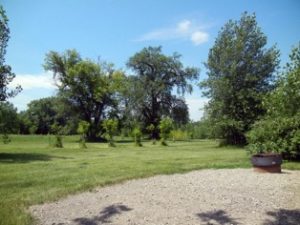 Just outside of our trailer stood a bush with some berries on it which attracted hungry birds. I was lucky enough to snap this photo through the window of the trailer of this beautiful bluebird enjoying a treat one morning.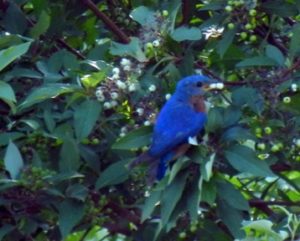 Across the river, in Grand Forks, stands this monument marking the flood levels of several floods in the city's history.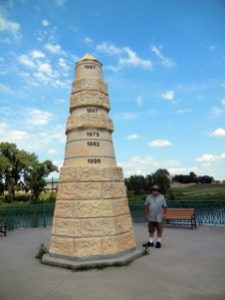 We spent several days here, some of which brought very heavy rains and strong winds. When we left, the Red River had risen noticeably, so we were relieved to be moving along.
We decided to remain in Minnesota as we moved south, and our next stop was at the Buffalo Creek State Park, a bit east of Moorhead. The campground was small and very clean, with excellent facilities and nice sites. We were lucky to be in the area over the weekend of the county fair, which we decided to check out. We loved the small-town atmosphere, with young people competing for prizes for the animals they raise as well as horsemanship and various hobbies. Here is a sample of the things we saw.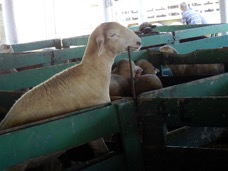 This sheep seemed to enjoy chewing on a metal pole of some kind.
While we were here, the weather changed from being comfortably warm to very hot and humid. This beautiful sunset made an excellent ending to a lovely day before the heat hit.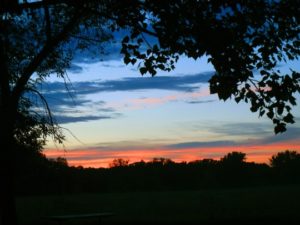 We'll be on the road again tomorrow as we move south, looking for more comfortable temperatures and other sights and experiences.