12 Unique Things for Seniors Traveling to London
Getting Around
The key to getting around London on tubes and buses is the Oyster Card. It saves both time and money. If you're a London resident, 60 or over, you can ride free much of the time. But foreigners, who do not receive that discount, have the option of a regular Oyster Card, or a tourist Oyster Card. You can load it up with day passes or cash, and then take a bus or tube whenever you need to. The information online about Oyster Cards is extensive and somewhat confusing. Check here and/or do your own online search. Wikipedia also has a good, easy to understand article about the Oyster card.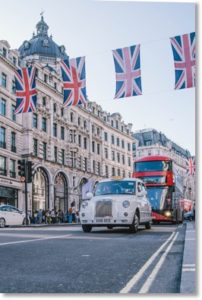 If you're step-averse, buses are probably your best option, as tube stations often don't provide steps-free access. Also, the distance between interchanges can be long. Buses accept Oyster Cards, travel passes, and contactless payments (with compatible credit/debit cards) only. But they do not accept cash!
Trains offer discounts up to 33% to seniors. You'll need to show your passport or some other type of identification when you purchase a ticket.
Museums
The British collect obsessively which means that their museums rank among the best in the world. And most of them are free! Their hours vary, and most have lovely cafes where you can hang out and refuel. With many closing at 6 pm, walk slowly to the public transport or make a dinner stop and you will be able to avoid much of rush hour. You'll find a list of museums here.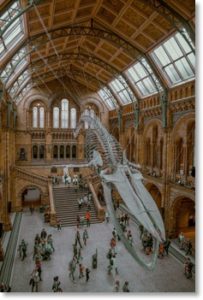 Speaking of museums, there are many specialty museums tucked away. The Museum of Garden History, for example, is located beside the grounds of the Lambeth Palace. You'll find gardens as well as ancient gardening implements, seeds, texts, and other gardening paraphernalia. It's open seven days a week and is free. Take Lambeth North (Bakerloo line) or Westminster (Jubilee, Circle, & District lines). Find an annotated list of London's gardens here. The website actually lists gardens all over England. If you're a gardening buff, England, where gardening is more popular than anywhere else, is your place. Fancy a garden tour? Check out their garden tour page.
At the other end of the spectrum is the National Army Museum. It relates the history of Britain's army from the times of Henry VIII, including exhibits of uniforms and weapons. It's at the Sloane Square stop on the Circle line.
If that interests you, you might also consider the Churchill Museum. It offers insight into his life and work through original personal items and artefacts of the time. You'll learn about Churchill's remarkable 90-year life, from his lonely childhood to his military career, two periods as Prime Minister and beyond in this award-winning interactive museum. It's located on the Clive Steps, King Charles Street. It is not a free museum.
Unusual Sites Seniors Enjoy
I've always loved auctions and most of us have heard of Sotheby's. Before an auction, the day's lots go on display and it's free to visit and see everything, often including world famous artworks. So just give them a call and check what's coming up here.
Near Sotheby's, you'll find Smythson of Bond Street a few doors down. It has a small stationery museum at the back of the store that includes fine stationery specially produced for the Maharajas of India in the 1920s.
Also, nearby is the Franklin D. Roosevelt & Winston Churchill Allies Statue. It's actually a bench with the two chatting to each other with room for you to squeeze in between them for a photo opp. ​​
At the Kensington Roof Gardens, which are free to visit (but call ahead as it's often used for private events), there are three themed gardens, with over 70 full size trees, a flowing stream stocked with fish and resident flamingos: Bill, Ben, Splosh, and Pecks. The Roof Gardens is located at 99 Kensington High Street, London, W8 5SA. Access to the building is via Derry Street which branches off Kensington High Street, and the nearest tube station is High Street Kensington.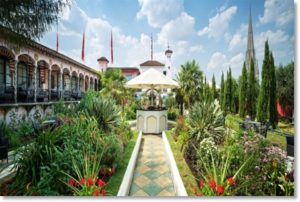 Nearby is Kensington Palace (free to see from outside). There's also the Diana Memorial nearby, if it interests you to visit Princess Diana's tribute.
For more quirkiness in the area, go to see the fake houses at 23/24 Leinster Gardens, built to link the real homes adjacent to the "hole" left when the underground was constructed. They're facades only, but complete with railings, door and plants. There's a long tradition of tricksters sending pizza, taxi cabs, and religious representatives to this address.
If a couple of miles is not too taxing a walk, enjoy a stroll from Little Venice to Camden, beside the Regent's Canal. It's a beautiful part of town to explore. From the narrowboats at Little Venice, you'll see grand Regency houses, the London Zoo, famous street art, and end up at Camden Market. Take a tea break there at a café located on a bridge that traverses the canal and enjoy a great view back the way you've just walked.
More on Gardens
One of my passions is gardens. I've joined an English-speakers' garden club through my city's Botanical Gardens. Our varied meetings are one of the highlights of my week. In England, the National Trust has 200 gardens and parks to explore and they hold many special events throughout the summer. Also during the summer, the National Garden Scheme (NGS) opens around 3,700 wonderful gardens to visit across England and Wales. By visiting an NGS garden, you'll be helping to support many nursing and caring charities. They help garden owners open their beautiful gardens to the public, sharing their passion and raising impressive amounts of money through entry fees, teas, and slices of cake. Since it began in 1927, the NGS has donated more than £50 million to charities. Check here for details.
This is just a small taste of what awaits you in London. Search a bit on the Internet for your specific interests and I'm sure you'll find something related. If you find something particularly noteworthy, drop me a line about it lorry@seniortravelbuddies.com.