The world seems to focus on how to make us thin, rather than making it easier for us to travel through the world as we are. A lot is written on the internet about traveling as a plus-size person, some of it very useful. But are there any special considerations for senior plus-size travelers?
1. Clothing
Capsule Wardrobe
A new buzz word in the fashion world is, "capsule wardrobe." It's simply a mix and match collection of basic travel clothing. The colors harmonize and the items are multipurpose, letting you create many looks with fewer items, ideal for traveling light—exactly what senior travelers want.
To be prepared, put together two capsule wardrobes: one for warm weather, and one for cold. Start with what you have. In addition to considering colors and combinations, choose items for pack ability (roll small and don't wrinkle), comfort, and quick drying. Start with neutral colors that can be dressed up with accessories. Black or white, or beige or navy, depending on your coloring and preference.
A sample capsule wardrobe could consist of:
3 Tops: Choose two neutral-colored for comfort and easy care. Choose one solid black or white for dressier occasions (a button-down shirt or long-sleeved nice-looking t-shirt).
2-3 Bottoms: Choose one (pants, shorts, capris, or skirt—depending on weather) in the neutral color on which you're basing this wardrobe, and one solid black for wear on the plane and for dressier occasions. Jeans are heavy and slow to dry, but some people (like me) wouldn't leave home without them!
Jeans
I'm partial to traveling with jeans, though maybe they're not the most practical option. If your jeans always rip in the spot between your thighs, you can alleviate the problem, or at least postpone it. Use the sewing machine to add some extra fabric in those problem areas. Or, buy a package of iron-on denim patches. You can even bring the patches along—most hotel rooms have access to an iron.
Pants
To pack lightly, it's important that you coordinate the colors in order to make the best use of all items. One option, zip-off pants (men) (women), give you both pants and shorts. You may want a nicer-looking pair of pants for dressier occasions, like dinners out or trips to art galleries. Choose a neutral color to best coordinate with shirts.
1-2 Jackets: Lightweight sweater or jacket in the neutral color. If the weather is cold, you can add a down jacket that stuffs into its own pouch. If you expect rain, pack a rain jacket or poncho that stuffs into its own pouch.
1 Dress: Women may want to include a dress. Choose one that is versatile, that packs well and is easy to care for. When selecting the color, consider the rest of your wardrobe. Black may work best, but Navy blue, wine, or dark gray can complement and compliment! Find ways to dress it up with scarves and jewelry (buy a scarf during your travels!). Consider a natural fabric that is lightweight, washes well, and dries quickly.
Sport Clothing: Swim suit, if swimming is in the plans, and exercise clothing (which can double as bottoms and tops).
Exercise Clothes
You'll undoubtedly be doing a lot of walking, hiking, biking, and other activities in which you'll be more comfortable in clothing made for that purpose. You can replace exercise clothing with thermal underwear for winter.
Women can wear a pair of exercise leggings (could be the ones you use for swimming, above) with a long, cool top and they'll double as a touring option, as well. You can also use a rash guard and swim skirt with leggings for all your exercise activities.
Men can wear swim trunks (as described above) for many activities. The rash guard will serve well, too.
Swimwear
So many of us are reluctant to show ourselves in traditional swimming suits. For several years now, I have bought and worn modest suits, that cover all the areas I'd rather not display.
Women can go for modest swimsuits to address older shapes and alleviate embarrassment. Try this one. It's a skirt with built-in leggings that can double as an around town bottom. If you prefer, pick up a separate swim skirt and leggings. Again, use them to swim or to travel in. The leggings are great to avoid chafing, in the water and out. For a top, find a rash guard that you like, either fitted or loose. It will double as a shirt you can wear out so make sure you choose a color you like.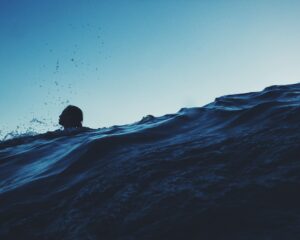 Underwear and Sleepwear:

Women: Long Black Tunic Top for sleeping; Sports Bra, Regular Bra, 10 Underwear, and 5 low socks and/or ankle socks in cold weather
Men: PJ bottom for sleeping, 10 underwear and 5 low socks and/or ankle socks in cold weather, 3-5 white or colored t-shirts (number depending how they're used: sleeping, as undershirts, as tops)

Shoes: 3-4  pairs total. Athletic/walking shoes (waterproof in winter), flip flops (for showers and around the pool), sandals (in summer) good for walking, and (for women) flats. Comfort, comfort, comfort! Tired feet affect our whole body and our outlook! Women, choose comfort and support over cute! Wear your bulkiest shoes on the plane.
2. Comfort
Certain articles that take only a small space in your suitcase can make you much more comfortable. Check these out:
Carry a body-glide stick at all times." Apply before you get dressed, on thighs, neck, arms, and anywhere skin is rubbed. Stop trouble before it starts."
Women, get yourself a pair of comfy bike shorts like these to wear under dresses and skirts to avoid chafing. You can wear them for exercising, too.
Bring pads (something most of us haven't used in a while!) to help with crotch sweat. Might be a bit embarrassing for men to carry, but could help. (These are reusable and come with a tiny carry bag. Just rinse and dry.)
Put disinfectant wipes and/or personal wipes in your backpack or purse to have handy at all times.
Travel as lightly as possible—you'll likely be schlepping your own luggage up and down steps, over cobblestone streets, and even gravel paths.
3. Activities
Some useful hints about making common activities less stressful.
Swimming
Bring your own swim towel so you're comfortable after swimming, or showering in a hostel. No one wants to flash those around you! Check out this one, a microfiber towel, 30"x 60", that packs into its own stuff sack, only 8" x 3" in all, and dries quickly.
Exercise
Bring an exercise band or other small item that you can use to keep up your fitness. You'll be walking but may want to supplement that with some strength training. Speaking of walking, consider bringing fold-up or collapsible walking sticks. In addition to aiding balance and stability, they provide postural support, and can assist in maintaining a good posture. Some people even use them for self-defense.

Weight restrictions
Some things, including kayaks, tents, and sleeping bags, have weight and size restrictions. If you're going on an excursion that includes horseback riding, parasailing or zip-lining be sure to ask about weight restrictions. Try calling the tour company before booking to make sure they can accommodate you.
4. Flying
Being crammed in a too-small seat for many hours is a form of torture we endure to get to the exciting locations we can't resist. Here are some tips to help make your flights more comfortable:
If you can afford it, pay extra for a roomier seat, like business class.
Befriend a gate agent and pre-board to avoid embarrassment about fitting down the aisle. Also, ask for less populated row, usually near the rear of the plane.
Raise the armrest right away.
Put all your belongings in the overhead compartment to give you as much room as possible.
If you'll need it, ask for a seatbelt extender as you board. You can even purchase your own to carry with you. Most airlines will accept that (Southwest has its own.).
All airlines are not equal when it comes to space. Most airlines provide 17" wide seats. JetBlue is known for having extra legroom and their economy seats are about an inch wider than most.  Southwest will allow you to purchase an extra seat and then will reimburse you for the second seat after the flight is over.
You know your limitations. Contact the airport the day before you leave to request a wheelchair and/or assistance, especially with connecting flights.
Wear deep vein thrombosis stockings (these are even attractive and come in so many patterns and colors) during your flight if it's a long flight, and take off your shoes. (You might put your flip flops into your carry-on so that you have something to walk the aisles.) These stockings stop your legs from swelling. People who are plus size are MUCH more likely to get deep vein thrombosis. Get up and walk around during the flight, drink plenty of water, and flex your toes and circle your ankles.
Check on TSA Precheck or Global Entry to expedite security for domestic and international travel. There is a charge, but some credit cards pay the fee.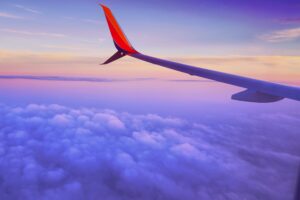 Rob Goldstone, in his article, "The Tricks and Trials of Traveling While Fat," published in 2010 in the New York Times, related some amusing stories about his experiences traveling as a plus-size person.
"In China, traveling while fat turned farcical. I had been in Beijing less than 48 hours when I started to notice small children running up to me and touching my stomach before scurrying away in fits of laughter. Day and night they continued to approach me, poking and prodding at my belly.
On a walk through the Forbidden City, a local guide explained to me what was happening. "The kids think you are Buddha," he said, "and they are rubbing your belly for good luck. You are Happy Buddha." At a local souvenir shop, my guide showed me a statue of the Happy Buddha. Except for a shaved head and a hoop earring, the Happy Buddha and I could have been brothers.
In neighboring Thailand my embarrassment was caused when a Bangkok tailor used "special" fabric to create a one-of-a-kind shirt for me. Only when I was seated in the lobby of the world-famous Oriental Hotel and noticed the stares of guests did it become clear that my shirt had been made with the same material used to cover the hotel's furnishings. It brought a whole new meaning to blending in with your surroundings."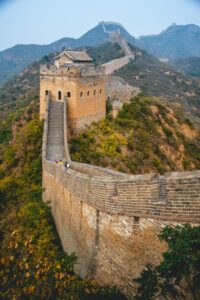 Whatever our experience, it's worth it, or we wouldn't be traveling the world. Just remember to bring your sense of humor!
Looking for someone to travel with you? Go to www.seniortravelbuddies.com/register to find a travel companion to accompany you to your next destination.